Meet Jordan Page, the Fun Cheap or Free Queen from Jordan Page on Vimeo.
Jordan Page is wife to Bubba, mom to 5 kids 6 and under, and creator of the popular international blog FunCheapOrFree.com, and of course, Budget Boot Camp! She and her husband, Bubba, found themselves self-employed with little to no paycheck many months, new baby in arms, $15,000 on credit cards and growing, $0 in savings, a $10,500 ($550/month) car they couldn't afford, and very little hope to hold onto.
They buckled down and miraculously paid off all the debt in a little over one year, on just a $31,000 salary. The next year they had built their savings back up. The next year they had saved up enough to snatch up an incredible 5,200 square foot home in a multi-million dollar neighborhood on short sale, getting it for pennies on the dollar (and using their scrappy skills to bring the mortgage payment down to just $1300/mo). Four years later they sold their short-sale "investment home", profiting over $300,000, allowing them to snag their lifelong dream home on 1.5 acres. They drive new cars, they travel, throw parties, have closets that are busting at the seams, enjoy adventures as a family, and have well over 1 year of generous living expenses saved up in multiple bank accounts.
But how? Are they millionaires?
Truthfully? Nope. Not by a long shot. Everything they have and have accomplished can be attributed to one central fact:
They were able to accomplish their financial goals and dreams because of how well they manage their money, not in spite of it.
Here's more about their story, in her own words…
Hi, I'm Jordan, also known as the "Fun Cheap or Free Queen". And I have a story to tell.
Just a few short years ago we hardly had money to pay our bills. We had $10,000 debt on just one credit card (about $15K total) and $0 balance in our savings accounts. Literally. (Read about that HERE) I was a new stay-at-home-mom and my husband, Bubba, had a new business and wasn't bringing home much of a paycheck (if anything). We looked at each other and decided we wanted a better life for ourselves; for our children. We decided we wanted to stop getting by, and start getting ahead. We set firm goals and worked our tails off. We sacrificed lots of good things, having faith that it would lead to great things. 
And it has.
With good old fashioned elbow grease and a scholarship into the school of the Hard Knocks, we were able to get out of debt, own two different dream homes, and accomplish every financial goal we've ever set for ourselves.  And no, we aren't rich. By a long shot.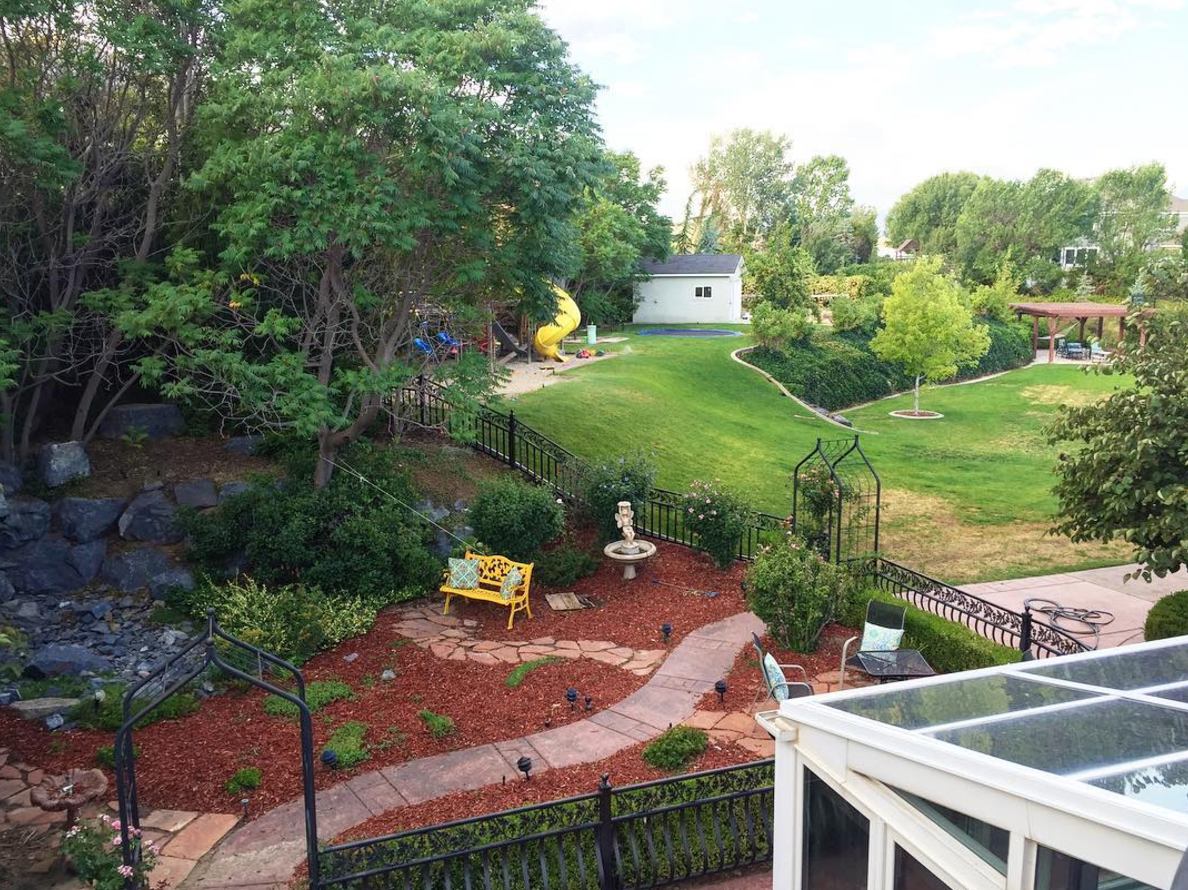 This, folks, is the new frugal.
This is what frugality is all about. Being frugal is not about giving up everything you love, but rather learning to get everything you love – the smart way. It's not just about scraping by, pinching pennies, or clipping coupons. Sure, that helps. But to me, "FRUGAL" is a lifestyle. It's a mindset. It's a way of living that teaches you to stop saying, "we CAN'T afford it", and instead say "HOW can we afford it?". This mindset, the new frugal mindset, has led us to have more, do more, and live more now than ever before.
The incredible life we live is because of how frugal we are, not in spite of it.
During our F.D (Financial Disaster) I found a gaping void online in terms of finding someone I could relate to; someone who knew what it felt like to have 5 babies in 6 years and feel the stress of choosing between new socks or an extra box of cereal. Sure, I could learn how to pay off my house and put money into a (nonexistent) 401K, or find coupons to clip that I had no interest in clipping. But how do I know how much to pay for groceries? Or how to look classy, feel beautiful, and stay fashionable on an actual budget? Or how to talk about money without wanting to kill each other? Or where to start when your finances are on the brink of disaster?
I rolled up my sleeves and figured it out myself.
I immersed myself in the world of what I call Family Finance; the real deal, meat and potatoes, grit and dirt reality of how a family spends money…and how to do it the right way. We created terms. Programs. Principles. Rules. Standards. And most importantly, a new way of living.
It worked. And fast.
Along the way we learned the value of being scrappy and entrepreneurial. We realized the world wasn't going to hand us any success in life; it was going to have to be earned through hand-to-hand combat. 5 businesses, 2 houses, 5 kids, 1 giant dog, and thousands of posts worth of trial and error later, we take pride in being a direct result of the truth that you CAN live the life of your dreams, on any budget.
I started the FunCheapOrFree.com we know today in February 2011 to share our progress, success, and tips with others. It took off like a wild fire in the prairie. Just as Rachael Ray became a cooking pro by…well…cooking, I quickly became a go-to everyday finance and frugal living expert that TV shows, friends, newspapers, magazines, and even my own family turned to for advice and hope. I became known as the "Fun Cheap or Free Queen".
I have been hard-nose focused on learning all there is to learn about family finance and frugal living, and won't let anything stand in my way when it comes to sharing it with you. Almost immediately the comments, emails, and success stories came pouring in, and I find no greater joy than celebrating small (and large) financial victories with my Freebs.
Along with Freebs Field Trips, Finance Date Nights, speaking engagements, one-on-one consulting, and live Q&A's, I also have an annual Budget Boot Camp Conferences here in Utah where I share all my best tips and tricks with attendees.
It's my mission to bring the new definition of frugal to the world and prove that it's not the drab, miserly, miserable "frugal" of yesterday. No, sir. It's fun. Hip. Sassy. Organized. Beautiful. And, believe it or not, simpler than you ever imagined.
So pull up a chair, grab yourself a snack and a snuggie, and kiss your mama's "frugal" goodbye. You're in for the ride of your life because…
…Frugal just got a facelift.
Read more about my family and personal life HERE, if you're curious 🙂
OUR DEBT STORY…
My husband started his business in 2009. Just prior to that he and I both had stable jobs and were making decent money between the two of us, and had great benefits. We decided to build a home so we could get out of our 2-bedroom townhouse, rent it out, and live in the bigger home that we could have kids and grow into for the next 10 years or so.
So we did.
We built a big, nice home from the ground up. We put our entire life savings into it. Literally. We emptied our bank accounts almost completely to pay the construction deposits, and basically the entire down payment, figuring our jobs were both progressing well and we could put off having kids for a few years if we needed to, to make sure we could afford the house without problems. We really enjoyed picking out everything from carpet, to wall color and everything in between. We had prayed about building this home (we had been house-hunting for months and months prior to deciding to build) and felt great about it. Everything fell into place, and we got great deals on everything since the economy had already tanked at this point, and all signs pointed to "you are doing the right thing". The house was set to close in January 2009, and we couldn't wait.
In the fall of 2008 my husband had become unsettled at his job. Long story short, there were promises made to him that weren't being kept, and he was tired of making someone else lots of money without much benefit to him. We discussed the issue and prayed for weeks. He decided it was time to quit his job and he officially started his own company in December 2008, just before our house was set to close.
He contracted with his employers to say on as an independent consultant for them, so we could still qualify for our loan. Everything looked great; he was able to follow his entrepreneurship dream, and we could still qualify for our home with my income and his "independent consulting income".
We were ready to go. We had packed up everything in our home, were sleeping on the floor, living out of one suitcase, and had renters that had moved out of their home and were ready to move in as soon as we closed on our home.
Then January hit.
When our new President came into office everything changed. Another long story short, new loan laws pretty much forbid any overtime income, commission-based income, self-employed income, or 1099'd (independent)  employees to qualify their income for a loan. We worked for weeks and weeks trying to re-qualify for the loan, but we just couldn't make it work. He had quit his job literally 2 weeks too early.
We lost everything.
There was no way to make it work; we had to choose between his new company and the house. We could re-qualify for the loan if he went back to work for his previous company, but he would have to sign at least a 2 year work contract to qualify. We prayed, cried, discussed, cried, and prayed more.
We decided to give up the house, and our life savings that we had put into it.
We had to give back the keys, had to break the news to our poor renters, and had to move back in to our empty town home.
It was a dark time for me.
We had felt so good about building the home.
Where had we gone wrong?
We had dotted our I's and crossed our T's and were certain everything would work out.
I learned that life will throw you curve balls to teach you a lesson, and teach you that you CAN handle hard things.
After a few months of wallowing about losing our new house AND our life savings, I made the choice to be happy. I decided it was time to stop complaining and do something.
I reassessed my life and priorities, and decided to focus on things that matter the most and stop wallowing over a dumb house. It could be burned up in 3 minutes in a fire anyway…it's just STUFF, right?!
I worked harder than ever at work, focused all my energy on supporting our little family financially so my husband could build his business, and found joy in things again.
Then an unexpected thing happened.
In April 2009 my husband and I started having strong feelings that it was time to start a family. This was scary for us because my husband's company was new, he was taking no income so he could put all his money back into the business, and we were living solely off of MY income (which was okay for a girl, but not fabulous by any means!).
Oh yeah, and we had no savings any more.
We couldn't shake the feeling, and in January 2010 we had this little guy:
I officially quit my job after he was born and haven't gone back to work since.
It's been hard at times. We lived off of only my income for all of 2009 while my husband built his company, and his (growing but at times unsteady) income is all we've lived off of since January 2010. There were a few months where my husband didn't take any paycheck at all, or he took only a small one, so he could have enough to pay all of his employees. We had to put our bills on credit cards so it started building up.
BUT…We had faith that it would all work out if we were disciplined, and guess what?
It's all worked out great!
Hind-sight: had we not been forced to choose between the company and the house, I might not have been as committed to supporting his business. Had we moved into the house, we probably wouldn't have our son right now, and it's undeniable that he was meant to be in our family right now.
The best news of all?
My husband is a rock star. I'm going to brag for a moment.
His company is doing well. Amazingly well, actually. And since then, he has been able to start a second company that, while still in start-up mode, is also on it's way to being successful. He has been featured in magazines, and has won various awards for its rapid and astounding growth. We were, and still are, absolutely committed to it. This is what needed to happen for us to be where we are today. He now is able to take a steady income, has grown into a big office building, is speaking all around the state at conferences and events, and has people seeking his company out from all over the world.
I firmly believe it wouldn't have grown this well, this fast, if we hadn't been 110% committed, or learned what it means to be scrappy and fight hard for what we want in life. None of this would have happened if we hadn't chosen to give up the house.
It hasn't been easy, but we have lived well and enjoyed life, and STILL have managed to become virtually debt-free and build up a savings…even through our major setback.

So where does Budget Boot Camp come into play?
After years of running a successful blog, being featured on incredible shows, in magazines, selling out of basically every conference and class I throw, I finally decided to listen to my Freebs and give them what they wanted – a program with ALL my best information, in ONE PLACE, that is EASY to follow, and FUN to use. I committed that this would be the year! After months of all-nighters, lots of caffeine, and over 16 straight hours in front of a camera, reading a teleprompter until my eyes hurt, Budget Boot Camp is now born and I couldn't be more excited about it! Stay tuned too, this is only the beginning; it's only going to get bigger, better, and more amazing from here on out!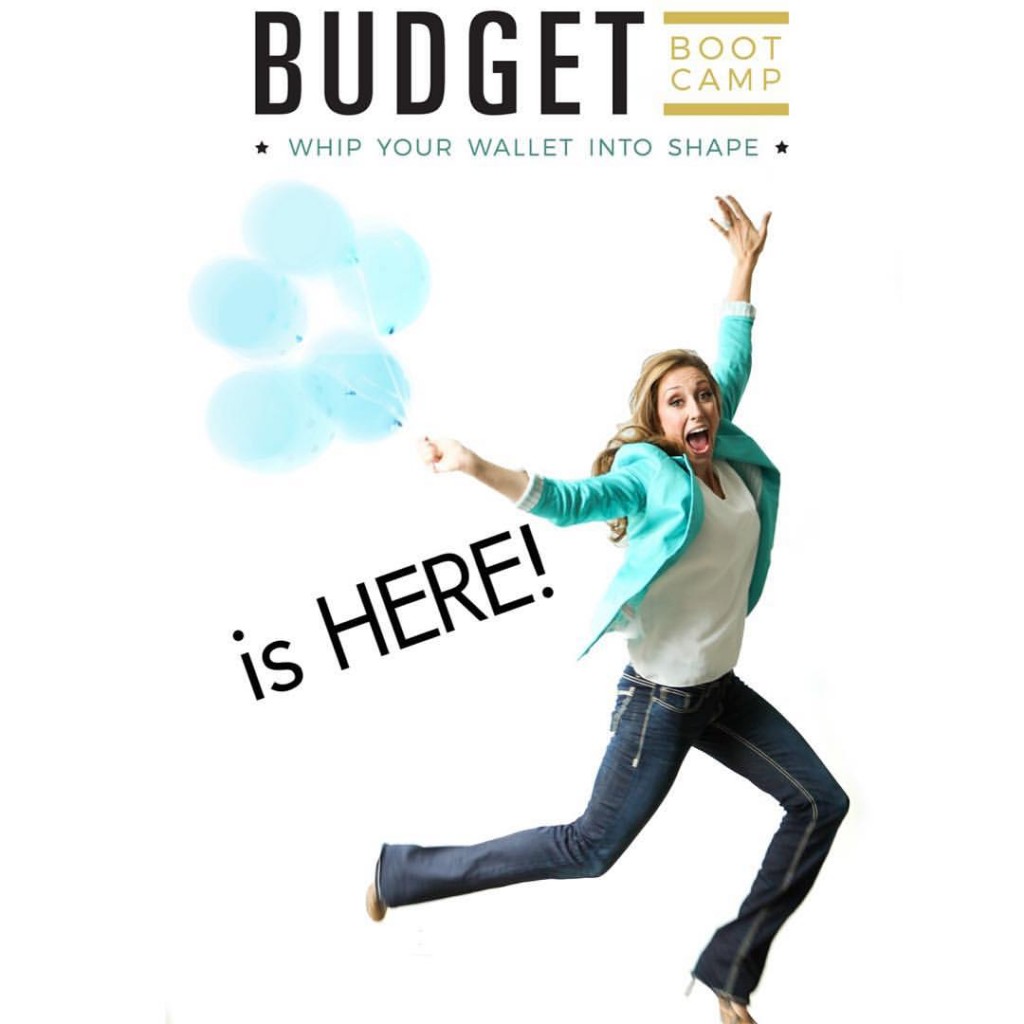 Our journey started when our financial situation hit rock-bottom, and luckily, we have worked hard and found ways to never hit rock bottom ever again. But my favorite part is that our journey has no end. There is not "end point" to frugality and budgeting. It's an ever-changing, always evolving lifestyle that keeps you on your toes, and teaches you how to be truly, undeniably, incomparably, unapologetically happy…no matter how many digits are in your bank account.